Return to site
Chinese consumer goods companies continue growing at internet-company speed
On what makes China´s FMCG challengers so special
{{{Cedric Jäger & Alexander Kremer}}}
The stellar IPO performance of new FMCG companies in China such as Pop Mart and Yatsen Holding, the company behind Perfect Diary, show a remarkable pattern. Multibillion dollar valuations after less than ten years of a company's foundation were thought to be exclusive to the tech sector, not the FMCG industry with its saturated markets, physical products and powerful distributors. Now, a new breed of Chinese scale-ups seems to have overcome these limitations and produce growth trajectories only known to pure tech start-ups. In the process, Pop Mart, Perfect Diary, HeyTea and suchlike have proven attractive targets for venture capital (VC) funding and have brought in generous rewards for their early backers.
Previously, it was thought that few industries and companies qualify for venture financing in the first place. Indeed, VC funds are often looking for companies disruptive in nature, targeting big markets and with a scalable business model. These conditions allow them to - if the venture undertaking succeeds - bring in significant returns for their limited partners and themselves in a matter of 5-10 years.
High-tech industries such as semiconductors are industries from which VC financing originally emerged. Later – since the wider spread of the internet starting from the early 2000s – the information technology sub sectors e-commerce, new transportation, media streaming, social and FinTech received significant funding and produced several unicorns. As the examples of HeyTea, Pop Mart and Yatsen show, however, in China nowadays another industry qualifies for VC funding.
This article will take a closer look at the new entrants into the Chinese FMCG sector and what is driving their exponential growth. Is it the market they operate in, the unique local competitive landscape or internal operations?
HeyTea, Pop Mart and Yatsen show that China´s new consumer goods companies are following growth paths of internet companies
First, we will take a closer look the three companies mentioned earlier that exemplify this trend across fundamentally different consumer goods categories i.e., beverages, toys and cosmetics.
HeyTea: creating tea culture 2.0
In only 8 years, the company has reached a $2.3 billion valuation following its Series D in March 2020. HeyTea´s product is a new type of bubble/milk tea called teanaigai cha, cheese tea in English, which is characterized by layering cheese foam on top of different teas and fruit drinks. With rather high prices around $4, HeyTea is successfully targeting young, affluent consumers resulting in an impressive growth trend.
During 2019 alone, its WeChat mini-app user base grew by a factor of 3x to 22+ million. At the same time, from April 2019 to March 2020 to be exact, 280 shops were added in China and an expansion to Singapore with four stores was initiated. That means HeyTea opened on average more than 20 stores per month. Assuming constant revenues per store, this translates into a revenue increase of $ 250 million or 170 % to over $ 400 million. Since the $ 16 million Series A led by IDG Capital in 2016, the company and its performance has attracted other leading funds such as Hillhouse, Coatue, Tencent and Sequoia Capital China. The valuation implied by HeyTea's most recent D round is a 80 % increase from its last valuation in July 2019 and is further proof for returns previously only found in tech. For a more in-depth analysis of HeyTea, please refer to Chine Tech Blog's two-part series published in November 2020 ( HeyTea 1/2, HeyTea 2/2)
Pop Mart: making buying and collecting toys an adult thing
Pop Mart is the largest and fastest-growing pop toy company in China. Pop toys refer to action figures, ball-jointed dolls and accessories infused with pop culture and trendy content.
Founded in 2010, the company is now worth $ 14 billion (market capitalization as of 07.01.21 after an IPO in December 2020) and has claimed an impressive 9 % market share in this highly dispersed market segment. As illustrated by the figure below, the company did not fully take off until 2017, after the purchase of the "Molly" franchise, but afterwards - from a solid revenue base - has been experiencing growth rates unknown outside of the tech sector.
Source: Pop Mart IPO Prospectus
From 2017 onwards, Pop Mart has succeeded at reinventing the "Molly" franchise over and over again as well as at adding new IP to its portfolio. Over the following three years, the company has established a platform to reinvent the entire industry value chain, including artist development, IP operation and pop toy culture promotion. Short release cycles of only three months for a new series, limited editions and secret figures have kept Pop Mart's digital-native millennial target customers coming back for more and provided VCs such as Mochishan Venture Capital, QF Capital, Sequoia Capital China, China Renaissance and Loyal Valley Capital with an attractive investment opportunity.
Yatsen: creating a local digital-first DTC cosmetics success story
Yatsen is a leader in China's beauty market. Since 2016, the company has launched three color cosmetics and skincare brands: Perfect Diary, Little Ondine, and Abby's Choice. The recent acquisition of Galénic adds a premium skincare brand to Yatsen's product portfolio.
Source: Yatsen IPO Prospectus
Through its digital-first DTC business model, Yatsen has achieved remarkable growth over the last years. In 2019 alone, its revenues grew by over 360 % – 30 times the growth rate of the broader Chinese beauty industry. With net sales of $ 480+ million in the first nine months of 2020 and a proven capability for incubating and scaling brands, the young company has achieved a market capitalization of $ 7.8 billion after its IPO in November. Since then, prices have only been going up resulting in the current company value of $ 12 billion. With the recent IPO, early supporters such as Zhen Fund, Gaorong Capital, Hillhouse Capital, Tencent, and Yunfeng Capital have achieved substantial returns.
External and internal factors are the root causes why China´s new consumer companies are disrupting markets like technology players
Together, the examples of HeyTea, Pop Mart and Yatsen highlight a much broader trend in China's FMCG landscape: new digital-first players are capable of growth rates previously considered to be limited to the tech sector. As a result, they became attractive targets for VC funds originating in technology investments. Why is that, one might ask. What are the underlying conditions, allowing this pattern to emerge in China?
The below review is aimed at answering these questions by exploring unique characteristics of Chinese FMCG companies and the market they operate in. First, relevant external factors are analyzed including Chinese consumer demand and behavior, as well as competitive dynamics. Next, an internal perspective will provide insights into disruptive FMCGs' operational similarity to tech companies.
Chinese consumer demand and consumer behavior
With an economy that grew 5.6x over the last 20 years and a population of 1.4 billion, China is without a doubt a source of rapid growth and one of the world's most important consumer markets. In fact, its urban FMCG market has grown at around 5.5 % p.a. over the last four years, excluding the impact of the current pandemic.
More important than the market's sheer size and growth, however, are the underlying dynamics affecting change in consumer behavior. First off, purchasing power has grown tremendously over the last 20 years.
As shown above, advanced and developing cities (together accounting for 40+ % of the urban population) are now home to a majority of affluent or mainstream consumers. With annual incomes of more than $ 34,000 and $ 16,000 to $ 34,000 respectively, the target audience for brands such as HeyTea has likely increased tenfold.
Growing purchasing power not only leads to a bigger potential market for up-scale brands, it also comes with rapidly changing consumption patterns as more income changes the spending distribution.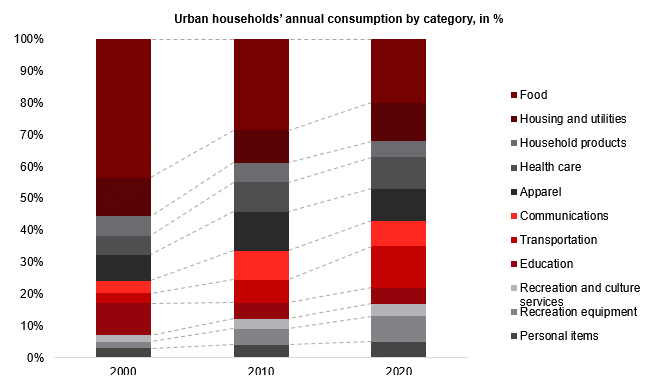 The analysis above highlights the fundamental changes in what consumers purchase. The share of the wallet of the food segment declined from 40%+ to 20% over the course of 20 years, but at the same time did the category size still increase from around $0.3 trillion to $0.9 trillion in 2020 (3x). Transportation, for example, increased its share of wallet over the past 20 years and went from $0.02 trillion to a $0.57 trillion market (almost 30x). With purchases shifting away from basic necessities, opportunities in other FMCG sectors are opened up. Personal items, recreation equipment and health care are only a few categories that have not only experienced absolute, but also relative growth compared to other categories, pointing at tremendous potential for new brands.
In terms of demographic groups, Gen Z have established themselves as the next engine for domestic consumption growth. Defined as the group of people born between 1996 and 2010, Gen Z already make up 15 % of China's population. Their purchasing power is only increasing over the years. For FMCG companies in particular, they have special relevance due to their impulsive and optimistic purchasing behavior. They are also digital-natives, thus used to discover and purchase products online without friction.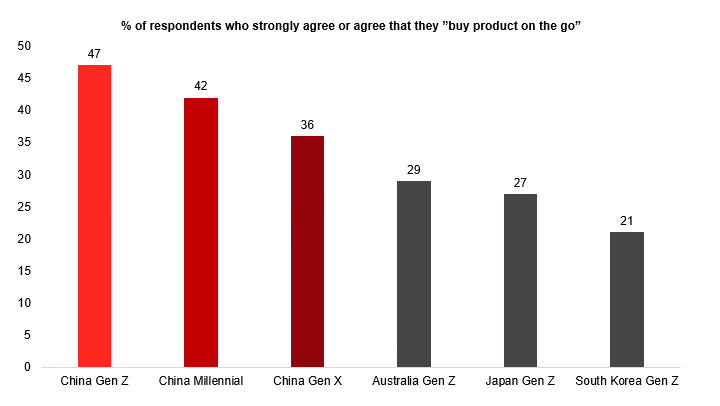 As shown above, Chinese consumers in general and Gen Z in particular buy products on the go. This impulsive behaviour is driven by a strong confidence in higher future earnings and heavy usage of financial products such as Ant's Huabei virtual credit card and JD's Baitiao card which allow them to postpone payments.
The increasingly high share of Gen Z consumers and their specific buying behavior means that this opens up significant opportunities for new entrants in every FMCG category, potentially replacing existing trusted brands. Indeed, Gen Z consumers grew up in a more "culture confident" (国货自信)era, compared to people born in 80' or 90'. This leads Gen Z to have more belief and interest in consuming China's local brands, compared to consumers ten years ago. For example, Lining (a famous sports brand) has seen growing popularity among teens and achieves a high pricing equivalent to Nike.
In another way, one might conclude that in China, the majority of Gen Z consumers have yet to choose there favorite brands and have in fact not yet developed loyalty for any of the incumbent players. This opportunity combined with Gen Z's high stickiness once a brand has successfully converted them into loyal customers, is paving the way for disruption.
As we will elaborate on later, this conclusion specifically applies to Gen Z´s preferred purchasing channel: online/omni-channel – the very place where many of the aspiring FMCG brands are emerging from.
In order to complete the picture of external factors first, we will take a look at competitive dynamics and thereby reveal an additional condition for the success stories of HeyTea, Pop Mart and suchlike in the next chapter.
Concentration of competitive forces
As a rule of thumb, one can say that industries with low concentration of large players tend to be more easily disrupted. This comes from the very fact that scale leads to control of supply chain, brain recognition and sales channels.
On the other hand, with market concentration among the top players low, bargaining power with suppliers for each individual player might be limited, brand recognition little and sales channels might allow for disruption. E.g, this becomes apparent in online channels where visibility can be created through advertising investments, e.g. in product search. In industries in China with low industry concentration, the share of marketing investment of total gross transaction volume might be as low as 1-3% while industries with high concentration might reach into double-digits numbers.
The below analysis from Big One Labs points out the concentration of Top-10 / Top-50 brands among a number of FMCG categories on Tmall and JD.com. While in milk powder, large companies dominate over 80% of the whole category, in general household items the number is at just 10%. Also the gap between the market share of the Top-10 and Top-50 differs significantly and shows potential for new smaller entrants (腰部品牌). This becomes very obvious in the make-up category where the Top-10 control 32% and the Top-50 62%, a large gap.
Agility of existing players
Starting from the time of Reform & Opening Up and with many Chinese industries in its infancy, in many verticals foreign companies captured significant market share at first. Nowadays in China, foreign companies still dominate certain verticals – more so than in other countries. MNCs clearly control, for instance, the apparel, beauty, packaged food and toys categories in China while playing a much smaller role in consumer electronics, personal accessories and soft drinks relative to the US. Overall, the top 30 foreign brands hold on average 40 % market share in China compared to 26 % in the US, showing how dominate MNCs still are.
This legacy of MNCs in China is the first component of an attractive competitive playing field for FMCG disruptors because of their inherent advantage in predicting and adapting to local consumer taste as well as the velocity to adapt to changing consumption patterns. They can also rely on China´s vast manufacturing ecosystem to put ideas into reality.
The second component are complimentary consumer preferences. The following graphic shows how Chinese customers prefer local brands in most categories. Where there is a gap between existing MNC dominance and Chinese consumer preference, local brands might take advantage.
Only in wine and infant milk powder have foreign brands an edge over their domestic competitiors in the consumer´s perception. Drivers of these preferences again depend on the category. Deloitte Research and the Ministry of Commerce, for instance, found that Chinese consumers tend to be concerned with the safety, price and materials of domestic products such as infant milk powder.
With constant changes in preference, availability and improvements in local products, such insights only paint a temporary picture. Looking at FMCG market value over time, reveals how Chinese firms have been gaining market share throughout the last years.
Source: Tmall Global, Deloitte Research
Overall, however, it is safe to say that the dominance of locally grown brands is increasing as foreign competitors are often ready to be disrupted by strategies of localization, customer engagement and time-to-market. Indeed, from our own experience we know that many MNCs until today depend on international headquarters to provide innovative new products. They then often have to adapt them to the local taste of consumers which can be a timely and tough process.
Similarity to tech companies
While favorable consumption behavior and an industry structure ready for disruption are a necessity for the success of young FMCG companies like HeyTea, exploiting this opportunity ultimately takes digital-first operations and the right approach to execution. In the following, we will dissect key capabilities and resources of the fast-growing disruptors. More specifically, we will take a close look at data-driven product development, digital-first sales and marketing as well as omni-channel distribution.
Data-driven product development
Data analytics, especially the realm of customer intelligence, has been on business leaders' minds for some time. Nevertheless, progress has been rather slow, especially with large incumbent companies. Many incumbent FMCG companies until today rely on traditional approaches such as focus groups for data collection. The firms in focus for this articles have had the importance of data-driven product development in mind when setting up their structure and choosing their technological infrastructure. As a result, Yatsen, for instance, has powerful processes in place to collect and synthesize data from its direct engagement with its broad customer base and KOLs. The real-time insights extracted from this rich data pool have been used to successfully develop new top-selling products and establish ever more efficient product development cycles, showing consistent improvement with every new brand.
Source: Yatsen IPO Prospectu
Pop Mart, serving as a second example, further complements its digital research capabilities by leveraging physical customer contact in an almost scientific process aimed at creating and testing new IP. On one hand, the toy company is a leading example for social listening with its homegrown PAQU app, a social platform for pop toy culture. On the other hand, Pop Mart has mastered physical product testing through pop toy conventions.
Furthermore, HeyTea is well-known to produce products based on popular internet slang and in a way which makes it attractive to share their stores and beverages on social media such as Wechat, Weibo and Xiaohongshu.
The examples of Yatsen, Pop Mart and HeyTea highlight how China´s FMCG disrupters build on data for product development, testing and iterations (e.g., A/B-tests). Those capabilities were previously thought to be the strength of internet companies only. While such product development capabilities are valuable across verticals and geographies, it is crucial for companies who call China's Gen Z their main target group. As the below study shows, this unique cohort has an especially strong appetite for customized or tailored products and services – a proposition only achievable through next-gen product development.
Viral sales and marketing
Another characteristics of China's Gen Z is their brand loyalty. Business leaders and entrepreneues seeking to tap into their evolving growth story should therefore consider brand building a key priority. While a unique value proposition that appeals to a firm's target segment provides a solid foundation, marketing efforts have to match current customers expections as well. In the case of Gen Z such expectations include personalized messaging, digital-first loyalty programs, a platform for topic related exchange and exciting collaborations.
Pop Mart has attracted a fan base with high stickiness through a multi-channel membership program and frequent communication in online and offline channels. As a result, membership of its loyalty program has increased from 0.3 million to 0.7 million, 2.2 million and 3.6 million in 2017, 2018, 2019 and mid-2020 respectively. Furthermore, the most engaged consumers can gathered on their proprietary platform PAQU (see below). As explained earlier, this mobile app features an online community, pop toy culture news as well as direct e-commerce integration. These standalone social channels are obviously supported by strong presence on social media such as WeChat, Weibo and Little Red Book.
Cross-brand promotions and partnerships based on strong IP are major tools to create excitement among the demanding Chinese consumers. No one knows how to leverage this tool better than China´s rising FMCG scale-ups. Here, HeyTea serves as a perfect example. After collaborations with household names such as L'Oréal and Pechoin, it has most recently worked with Fenty Beauty, Rihanna's beauty brand resulting in a not-for-sale crossover.
This specific collaboration aims at promoting a new beauty product while strengthening both brands. It cleverly leverages the fact that both companies share the same target audience and builds on the exclusivity present during limited beauty product releases as well as the long lines in front of HeyTea stores.
In terms of sales techniques, live-streaming e-commerce has more than tripled in 2019 and thereby established itself as a key channel. Since then, the Covid-19 pandemic has only accelerated its rise in importance for consumer brands.
Especially home-grown FMCG disruptors such as Perfect Diary seem to have an edge in leveraging livestreaming to their advantage. During the Covid-19 lockdowns, Perfect Diary quickly shifted beauty staff from over 50 of their closed stores to work online by streaming via the brand's WeChat mini-program. In these live videos, store employees provided customer service, showcased new products and engaged in promotional campaigns. Yatsen even set up individual accounts for different stores, to further localize the offering – something few existing large and foreign brands were able to implement at this speed.
Besides their own employees, Perfect Diary makes heavy use of China's KOL. The brand for instance works closely with Li Jiaqi, the "Lipstick King", a internet celebrity with 40 million fans on Douyin.
During a live stream for Singles' Day on Taobao, he attracted an audience of more than 36 million while generating $ 145 million in revenue.
Together, the above examples show the effort companies are required to make in order to build a strong brand and effectively sell to China's Gen Z. Moreover, it demonstrates how incumbents might struggle in keeping up with the current level of digitization, innovation, and agility present in contemporary brand management.
Digital-first omnichannel distribution
With e-commerce accounting for 27% of FMCG sales in 2020, a strong online presence is not negotiable for most players. For start-ups without immediate access to a physical distribution network, teaming up with e-commerce giants such as JD.com and Tmall is a game changer. These giants have been training training delivery staff for more than decade. As a result, partnering up over night allows young brands to reach customers all over the country.
Source: Kantar Worldpanel; Bain & Company
Yatsen's DTC operations, for example, span popular online channels including e-commerce channels and social and content platforms. How powerful this presence is, shows the performance of Perfect Diary's Tmall flagship store during the month of Singles' Day in 2019: Over 41 million unique visitors placed Yatsen the highest among all Tmall color cosmetics stores.
A pure online presence, however, is no longer enough. Younger target groups, especially Gen Z, demand a seamless omnichannel experience.
As shown above, Gen Z increasingly research purchases offline to then complete transactions online. There is clearly a desire to first experience the product. Therefore, online and offline touchpoints need to be integrated. Additionaly, it shows how offline channels stay relevant while online's importance is ever increasing. Great offline experiences can convince through outstanding service, testing and face-to-face social engagement.
Pop Mart not only caters to Gen Z's preferences but has unlocked further synergies from operating multiple channels.
While its retail stores act as the primary sales channel and provides a wide selection of products ready to be purchased, offline stores also help establishing a brand image and building connections with consumers. Compared to retail stores, roboshops incur lower upfront costs and ongoing operating expenses and can therefore reach regions not covered by retail stores. Moreover, the sales performance and market feedback generated provide valuable insights for retail store expansion strategies. As a consequence, retail stores may replace high-volume roboshops.
Lastly, fast-growing online channels, including Pop Mart's Tmall flagship store, Pop Draw, Paqu and other mainstream e-commerce platforms, provide convenient shopping experiences and have already established themselfes as the most important channel with 40% revenue share during the first 6 months of 2020.
Lastly, it is important to note how a focus on a digital-first omnichannel experience is equally important for categories with lower online penetration.
Source: Kantar Worldpanel; Bain & Company
Not only is online penetration increasing across all product clusters (see above), it is also paramount in differentiating a young brand. HeyTea, for instance, pioneered the digitization of Chinese beverage chains by leveraging social apps like WeChat for placing orders and adjacent features. As of 2019, the company has amassed 22 million users on its WeChat mini-app as of 2019 with 16 million added during one year.
Moreover, the advantages of an online-first approach become clear because it creates a direct communication channel between brands and consumers, allowing for more input to refine product development and operations. This, eventually, creates a fast and accurate feedback loop.
New consumer goods companies targeting Gen Z's unique interests will produce the next wave of unicorns
What started back in then in the snack category with companies like the IDG-backed Three Squirrels (三只松鼠), become a proven model with companies such as HeyTea, Pop Mart and Yatsen which are all unicorns. But with slowing growth in the Chinese economy, is the time of disruption by DTC brands in China already over? We believe there is still a lot ahead. Following key interests of Gen Z, we expect concentrated activity around the topics of convenience and healthy lifestyle.
Regarding convenience, there are a couple of exampes to be named especially in the food sector. For example, there is Zihai Guo (自嗨锅). The companies´ name could be translated as Selfentertainment Pot and provides ready-to-eat meals. It was founded in 2017 and raised a Series C by Matrix, among others, in 2020.
Source: Zihai Guo & Source: Ramen Talk & Genki Forest
Then there is the 2016-established Ramen Talk (拉面说) which focuses on outstanding instant noodles and therefore combines the convenience of quick preparation with Gen Z's desire for more premium products. Ramen Talk is backed by Next Capital and SIG and just raised a new round (Series C) in 2021.
As Chinese consumers are getting more health-concious, a vast number of start-ups have emerged hoping to benefit from the behavioural change. Among them is Genki Forest (元気森林), a company providing sugar-free healthy drinks, which was established in 2016 and is backed by Gaorong, among others.
The above three examples show us, that products supporting a convenient and healthy lifestyle might create the next wave of FMCG disruption in China.
From our analysis it becomes apparent that China´s emerging FMCG companies can grow at breakneck speed and can go from incorporation to unicorn status within 5-7 years.
Building on the dynamic environment they are operating in and their unique approach to operations in product development, marketing and omnichannel distribution, China´s FMCG challengers achieved the remarkable feat of expanding the scope of VC funds. Indeed, their disruption potential makes them a continued suitable target for venture financing.
With Gen Z getting more and more important and new consumptions trends emerging, there is proof that the phenomenon of internet-company growth trajectories for FMCG challengers with VC funding is far from over.
All opinions expressed in this essay represent our personal views only.