China's growing challenge 
Which health condition is currently affecting over 500 million Chinese citizens and increases the likelihood of heart strokes, diabetes or cancer?
Overweight and obesity rates have been skyrocketing over the past decades in China – an often-unwanted consequence of a population getting richer and more sedentary. Apart from significant impacts on individuals' health, a more obese population is less productive and requires significantly more healthcare spending. This article explores how Keep, a fitness company, tries to become the country's one-stop-shop for a healthy lifestyle to counter this development.     
The staggering rise of the Chinese economy and hence the lifting of millions of people into middle class has had an enormous impact on the average Chinese waist size. Obesity and overweight have established themselves as fundamental challenges in most countries – and China is no exception.  As of end 2020, China's Center for Disease Control and Prevention reports that over 50% of the country's adult populationis either overweight (body mass index (BMI) > 25) or obese (BMI > 30). Particularly, the historic development is frightening in two ways: Not only has the share of adult overweight and obesity increased more than 25-fold since mid 1980, but the share also continues to rise dramatically in the past years.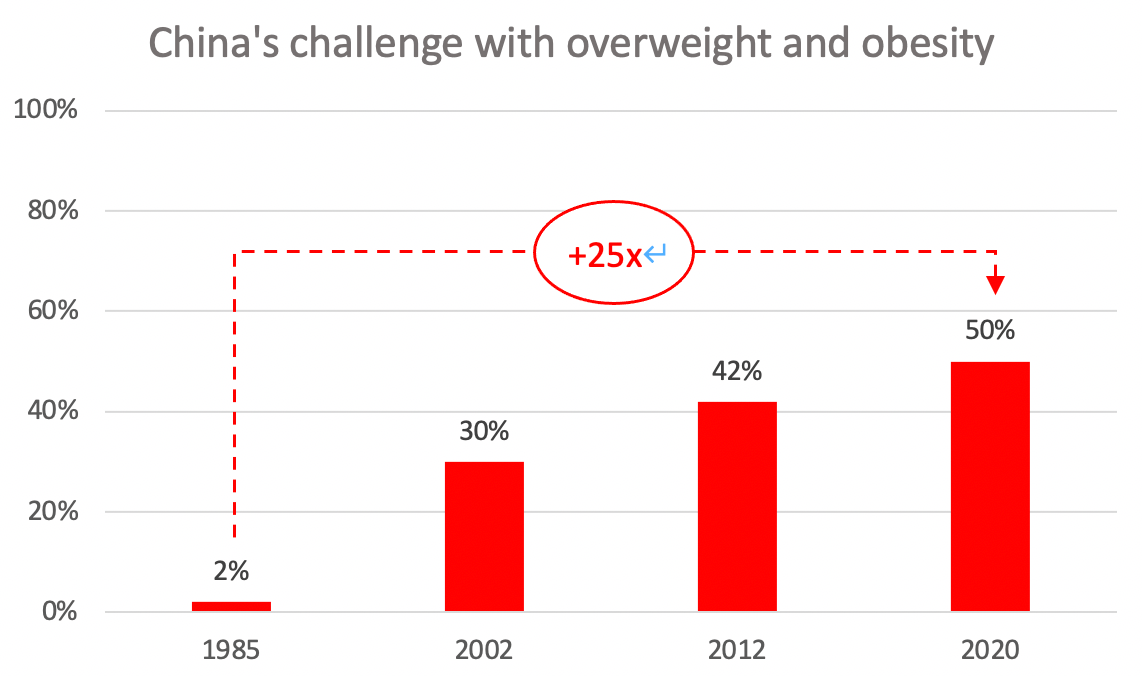 Percentage of Chinese Adult population overweight or obese
This dramatic and quite visible developmenth as not gone unnoticed by the authorities. In 2019, the Chinese government published The Healthy China Action Plan which outlines how the Chinese populous should become more healthy and hence less overweight or obese by 2030.
Chinese fitness lifestyle culture is onthe rise 
In stark contrast to most western countries, the concepts of fitness and working out have not been widespread in China and were rarely encouraged in a typical upbringing. During the last years, interest in these concepts has been rising primarily due to stronger public focus on health as well as the assimilation to beauty standards promoted by western countries. This development is supported by examining the increase of gyms per 1M inhabitants as a proxy for interest in fitness. Particularly, two findings are noteworthy: First, in 2001 gyms were almost nonexistent in China (0.4 gyms per 1M inhabitants). Second, by 2018 the number of gyms per 1M inhabitants in China has grown by 68x, yet is still significantly below USA levels. 
Number of gyms per 1M inhabitants 
The current state still lagging US levels stems from fitness culture being primarily dominant in Tier 1 and 2 cities. This in turn can be explained by the high cost for gyms – as of 2019, the annual average spending of gym members in China is around $800.     
Nevertheless, the advent of video platforms and smart phone apps have been introducing fundamental change to the fitness industry. Online offerings are reducing both geographic and financial barriers. These advancements will contribute to further increasing fitness penetration rate in China which is currently only at ~5% compared to USA's ~20%. One company synonymous with fitness in China and already capitalizing significantly from the rise in fitness is Keep from Beijing Calories Technology.      
Keep is a fitness company that aims to establish itself as China's one-stop-shop for a healthy lifestyle. In 2014, the company started with a mobile fitness app which offers fitness videos providing exercise monitoring and guidance. Since its founding, Keep has evolved its fitness video offering by including high intensity, running, yoga, aerobics and dancing workouts. Additionally, the company ventured into adjacent product categories such as sports equipment, sports apparel, nutrition and physical gyms.  
Keep's strategy seems to have been working: The company has over 300M subscribers. Over 10M of these subscribers (~3%) pay for exclusive content – the remaining subscribers enjoy free video content. The fees for exclusive content start at ~$3/month and currently contribute the largest share to Keep's revenue. The selling of sports-related products generates additional revenue. 
This success has been attracting plenty of capital from venture capitalists. The company's latest funding round of $360M led by Softbank's Vision Fund values Keep at ~$2Bn.      
Keep thrives in crowded fitness industry 
The interest in fitness has been growing steadily over the past years and particularly the interest in at-home fitness has skyrocketed during Covid. There are countless offerings that aim at making you fit through apps or videos. Keep was able to thrive within this environment thanks to its early integration ofsocial media and gamification elements, clever partnerships and its one-stop-shop offering.   
From its inception, Keep integrated social mediaand gamification components into its fitness app. Users were able to share their progress and workout routines through the app's integrated social media channel. At the same time, users collect badges and see how they rank compared to their peers. Both these features allowed the company to initially attract and retain many users. 
Still today, these features play an important role at Keep. Its dedicated social media channel allows the company to generate vibrant fitness communities which are the backbone for today's live workout sessions. Equally at Keepland, Keep's physical gyms, the gamification aspect is fully present as for example the heartrate of participants is broadcasted to the studio's screen to see who is pushing herself the most. 
With the first influx of venture capital, Keep engaged in partnerships with both Chinese and international celebrities. These partnerships went beyond pure advertising purposes and focused on creating exclusive workouts. Examples include Li Xian and Karlie Kloss. These partnerships allowed Keep to further differentiate its products from other players as they were able to provide exclusive workouts that could not be enjoyed anywhere else. These partnerships particularly helped in attracting users.
As the popularity of Keep increased, the company started offering products related to its core offering, the fitness app. The focus of those products is to create further brand affiliation and channels through which users can be brought into and kept within the Keep ecosystem. The first additional product category was labelled apparel, which requires relatively little investment and helps in spreading brand awareness. Equally however, labelled apparel does not create very strong brand affiliation. Differentiation through apparel is extremely difficult given the prevalence of behemoths such as Nike and existing offerings across all price segments. 
Keep's next investments into other adjacent product categories were probably higher, yet also more rewarding. Keepland is the company's physical gym offering which provides course-based community workouts. The community aspect combined with the seamless online-to-offline integration help in fostering brand affiliation and loyalty. The same logic can be applied to the company's introduction of smart sports equipment such as wristbands, treadmills and stationary bikes, which allow users to complete Keep workouts and participate in community sessions. 
All product categories combined with the company's newest healthy snack offering demonstrates how Keep envisions itself as the one-stop-shop for all fitness needs. 
Whereas these three key differentiating factors are individually crucial to Keep's success, they all share one common core: They leverage data generated from users to create sustainable advantage through personalization. Each differentiating factor both contributes to collecting more user data and is based on decisions from collecting data. Ultimately, Keep's focus on and proficiency in data collection and analysis is the company's most important competitive advantage – but how does that generate revenue and ultimately profit?
Keep focuses on profitable recurringrevenue from subscriptions 
Keep's business model can be understood along an analogy of German soccer team Bayern München's main striker Robert Lewandowski. 
Whereas a soccer team optimizes for goals, a company generally optimizes profit. Robert Lewandowski has Bayern München's highest chance-to-goal conversion ratio and hence the team's offensive strategy is to get the ball as often to him as possible. Other players are nonetheless still encouraged to exploit chances and score.
In Keep's case Robert Lewandowski is the fitness app and the surrounding team are the hardware/consumer products and the physical gyms. The fitness app is the most reliable source of revenue generation as it is based on predictable recurring revenue and generates the most profit as marginal costs for additional users are zero. The product categories adjacent to the fitness app are mainly concerned with attracting users into the Keep ecosystem and locking them into subscriptions within the app. By drawing users into the ecosystem, these products also generate revenue, yet considerably less predictable and profitable due to lower margins. This business model is in line with many very successful companies such as Peloton, Apple or Adobe. 
Keep goes global, yet faces challenges   
Keep clearly understands that fitness is not just a Chinese topic of interest, but clearly a global one. Thus, the company started offering its main product, the fitness app, globally starting in 2017. Whereas still today, the company's focus lies on China, Keep's vision of "becoming the world's largest smart sports operator" undoubtedly shows its global ambitions. 
Both the global expansion of the company as well as the aggressive move into adjacent product categories promise additional users and revenue, however come at the risk of losing focus on the company'score business (the fitness app) and market (China). Did Keep expand beyond its core too quickly?
Looking at valuations from companies that operate in just one product category in which Keep is present shows that these companies achieve similar, at times significantly higher valuations. For the comparison's sake, companies from each product category were selected: 
- Fitness app: Strava is a sports social media network that allows its users toshare their workouts and compete on so-called segments 
- Apparel: Gymshark is a sports apparel producer that was founded in 2012 
- Nutrition: Noom helps its users lose weight through behavior-based nutrition plans and food   
- Equipment: Whoop is the parent company of the name-sake fitness tracker andPeloton produces stationary bikes and treadmills with accompanying workouts 
- Gyms: Left out for lack of comparable company
Valuation in $B as of July 2021
The valuation comparison shows that each product category that Keep operates in provides room for large companies with big valuations individually – will Keep be able to prevail against all these competitors in their markets?
Keep so far has been an exemplary success story in making millions of people fitter. Nevertheless, both the size of the Chinese fitness market and the conversion potential within Keep's existing user base shows that there is significant value to be generated by solely focusing on its core – the fitness app and China.